Ahhh, black, our most favorite interior design color. It is versatile and transcending and we are thrilled that black is making a comeback into kitchen design.

Let's face it we always knew that black is really where it is at and now designers are using this spectacular color in innovating and clever ways to make kitchen's pop!

We are so excited that black is back, and we just had to share the powerful and glorious black kitchen design trends.  


1.) Black Top

Black kitchen countertops are not just for modern kitchens anymore. The choice of black now comes in most countertop finishes, from tile to marble to granite to concrete to wood - counter tops are offered in many different shades of black. Whether you style the black top on the center island or for the entire kitchen, black countertops beautifully pair with oak, white, slate and colored cabinetry.


2. Black Bead

For an edgy chic way to bolster a kitchen, consider using black paneling. Black bead-board paneling can be used to cover appliances and cabinets and give a streamlined clean look to a kitchen. Try using bead-board roll top storage to conceal countertop kitchenware or black bead board wainscoting to make your walls. The stunning simplicity of the paneled kitchen is a fashion win!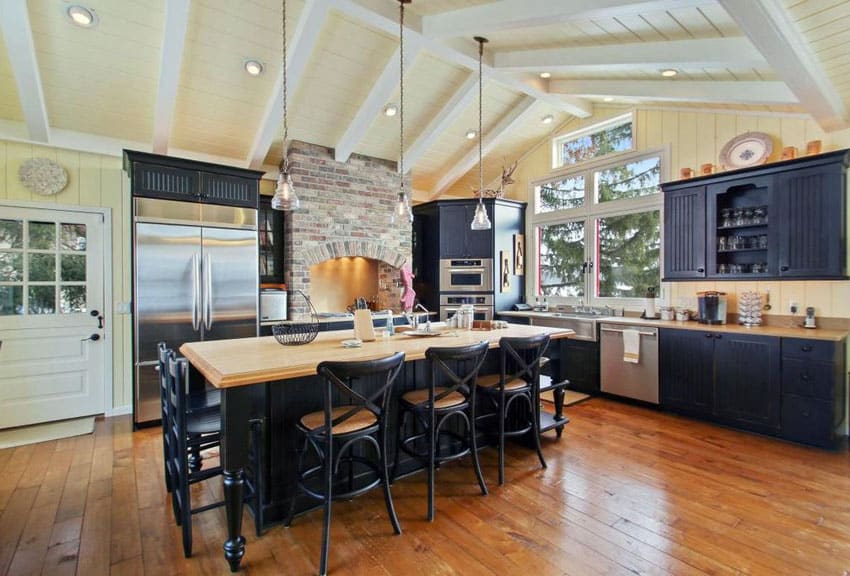 3. To Infinity and Beyond!

It might seem counterintuitive, but did you know that painting a ceiling black can actually add depth and space to a room? I know, you are thinking that has to be a misprint because we have always been told that dark paint makes for dark smaller rooms. Trust us, black painted ceilings can really open up a space! The lack of boundaries will give you an endless illusion and make a room appear bigger. While you're at it, consider painting the tops of the walls black as well as it will really feel expansive.


4. Black Magic

Just as ceilings give the illusion of space, so too do floors. Painting a floor black, using black tile, or installing black hardwoods can really add stunning drama to a kitchen. A shiny, reflective tile is great for a modern kitchen. Muted black concrete floors are easy to maintain while dark black hardwoods are perfect for farmhouse fabulousness!


5. Splash of Black

Use black sparingly as a flashy accent. Trim the kitchen with black upper cabinets can give culinary spaces an unconventional twist that is sure to strike a nerve!


6. Pull Back the Black

We all know that replacing your cabinet hardware is a great, easy and inexpensive DIY kitchen refresher. Switching out old knobs and pulls for fresh black cabinet hardware to give your cabinets and drawers a facelift. Black knobs and pulls are so lush and versatile that they ease into any home design. They accent white, wood, lacquer, color and painted cabinets and come in so many fabulous styles.


7. Everything but the…

Yup, you guessed it - the kitchen sink! Have you seen some of the apron farmhouse kitchen sinks on the market? They are stunning! Black deep basin and drop-in sinks are gorgeous too! Whether they are surrounded by white, wood or colored countertops, you can't go wrong accenting your kitchen with a black kitchen sink.



8. Black to Basics

A kitchen is just another room without a refrigerator, a stove and an oven, so we don't want to forget about the all important appliances! Black appliances are a popular option for kitchens as they stand up wonderfully to messes, they tend to be less expensive than their stainless-steel counterparts and they blend marvelously with almost any kitchen design style. Cabinets with cozy wood finishes, sophisticated white or minimalist black all pair beautifully with black appliances.







9. Blended Black

One of our all time favorite black kitchen looks is when it is blended with other colors and textures for utilitarian design. It is so inspiring to see different design styles merge to create a style all it's own!  We love the fusion of rustic, modern, conventional, and Euro blending together to create cosy and comfortable. Black is such a extraordinary color that it can pull a room together and balances out all the different textures, tones and finishes.